Humboldt Farms Cannabis Oil Cartridge
Humboldt Farms Cannabis Oil Cartridge
Humboldt Farms Cannabis Oil Cartridge: I am always on the search for cannabis vape brands that provide not only significant effects but great flavor as well. One of my favorites has been found in Humboldt Farms.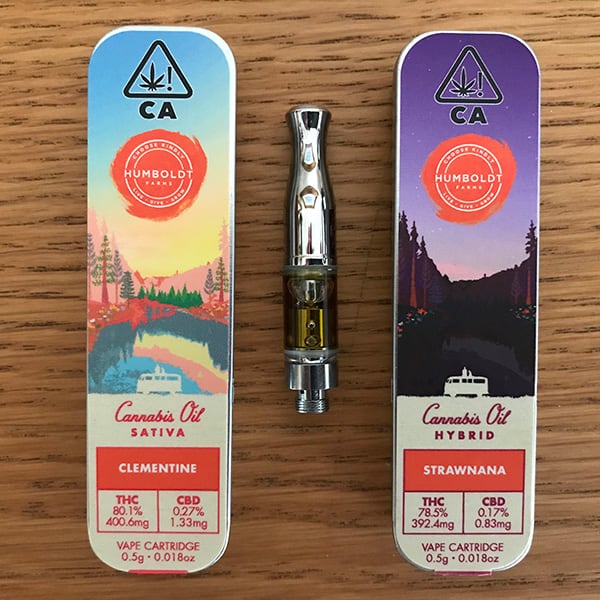 Located in Humboldt County, CA, this farm produces some of the best cannabis in the business. Each custom batch of premium cannabis oil is distilled and lab-tested for purity, resulting in a more potent product that has a true-to-strain flavor and organically clean effects.
Humboldt Farms products offer maximum potency due to their cultivation of cutting-edge strains with sturdy genetics, resulting in exceptional premium oils tasting delicious on both the inhale and exhale.
I was lucky enough to try two of their excellent strains, Strawnana and Clementine, both of which contain cannabinoids of CBG, CBC, CBN, THCV, CBD and THCa with terpenes of myrcene, pinene, limonene, linalool, ocimene, caryophyllene, carene, humulene, Bisabolol, camphene, p-Cymene, terpinolene, and terpinene.

I know, what does all that mean?
Simply: both the novice and the heavy-hitter will find themselves having a vape experience that is flavorful, relaxed, euphoric but also balanced. This company knows their science, and the resulting quality speaks volumes.
Design & Packaging
Whenever I purchase Humboldt Farms products, I'm always pleased by the eco-positive messaging and beauty of the artwork used both in their packaging and on their website.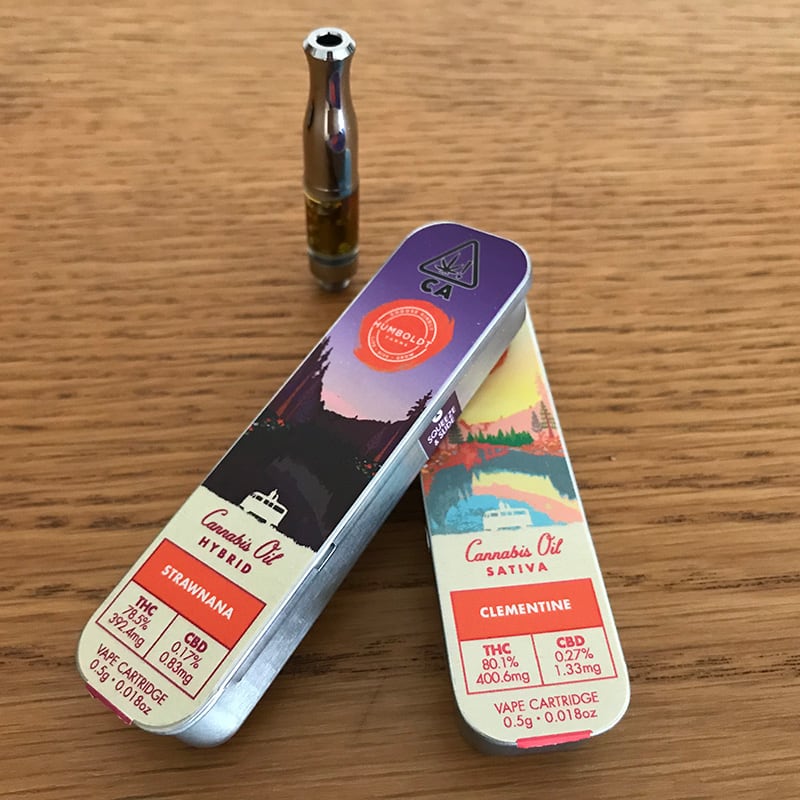 Their universal 510-threaded cartridges come snuggled in a metal sliding case. Unlike other vape products, which can have hard to open packaging, these cases feature a helpful sticker instructing where to squeeze before sliding to easily open.
Both cartridges had a slightly flared metal mouthpiece with a round airhole, offering easy air flow and consistent rips every time.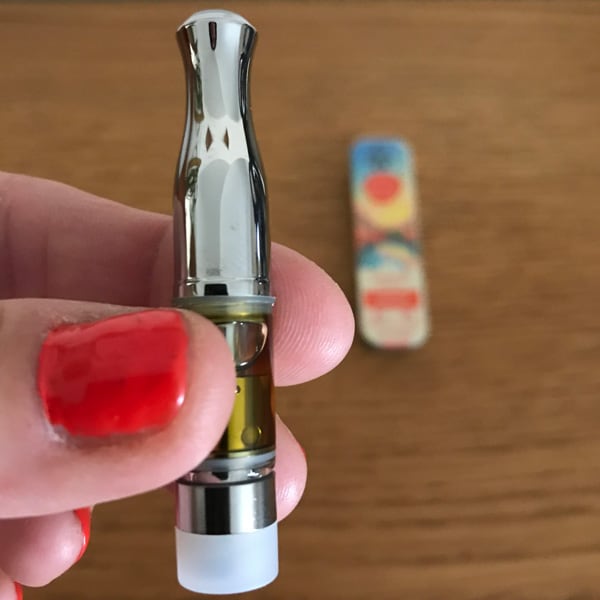 How to Use Humboldt Farms Cannabis Oil Cartridge
Humboldt Farms cartridges are universal 510-threaded and work flawlessly in any 510-threaded vape pen or vape battery. With two fingers, squeeze where indicated at the bottom of the case and slide to open. Once you've removed the cartridge from the case, remove the soft plastic plugs from the mouthpiece and base, then gently screw into your preferred vape battery.
Potency & Lab Facts
0.5g Strawnana/Hybrid
THC 78.5% (4mg)
CBD 0.17% (0.83mg)
0.5g Clementine/Sativa
THC 80.1% (400.6mg)
CBD 0.27% (1.33mg)
My Experience
Strawnana Cannabis Oil
Before trying the Strawnana vape cartridge, I was suffering from a horrific tension headache coupled with slight nausea. I took about 3 rips (at about 2 seconds in length). Almost immediately, I began to feel relief.
It begins with a pleasant head buzz that trickles down throughout your extremities until finally settling into a beautiful body high.
Energetic and euphoric, but also calming, I found I was able to be productive, while the pain relieving effects drew a curtain between me and the headache as the nausea dissipated into nothing, allowing me to have an appetite again. Despite its energetic daytime effects, when enjoyed at night, I found the calming effects take hold and the CBD helped melt the day away into a sound sleep.
The more flavorful of the two strains, I tasted the berry at the initial draw, then the richness of the banana is introduced in the thick exhale, combining the two flavors into a deliciously sweet aftertaste.
In summary: If you suffer from frequent headaches or the occasional hangover, I found Strawnana's body effects highly useful at decreasing symptoms, which really helped me get through my day while also relaxing me into my evening.

Clementine Cannabis Oil
With the Clementine vape cartridge, I experienced a potent and clean rush leading to a vibrant high that felt both energizing and well, just happy! This cannabis oil is perfect for daytime use or when you're in a social setting.
It too begins with a pleasant head buzz that slowly envelops you in a focused yet relaxed wave, lending to a vibe well-suited for a productive workout or maybe enjoying the outdoors during the weekend.
I found myself able to get a lot done, with few worries along the way, which bodes well for those suffering from anxiety, who may not want the heavier body effects of a more Indica-heavy strain.
This Sativa induced a clear-headed high, resulting in creatively-fueled productivity. The flavor of this strain is citrus forward, a bit harsher on the inhale than Strawnana, it rushes in with a bright lemon note that finishes with an aftertaste reminiscent of an orange creamsicle.
In summary: If you're seeking the positive effects of a well-balanced Sativa for daytime use, Humboldt Farm's Clementine cannabis oil is your friend. It induces a positive buzz which can be channeled into a productive afternoon or an impromptu workout. For those suffering from fatigue or social anxiety, this Sativa cannabis oil can really help you relax.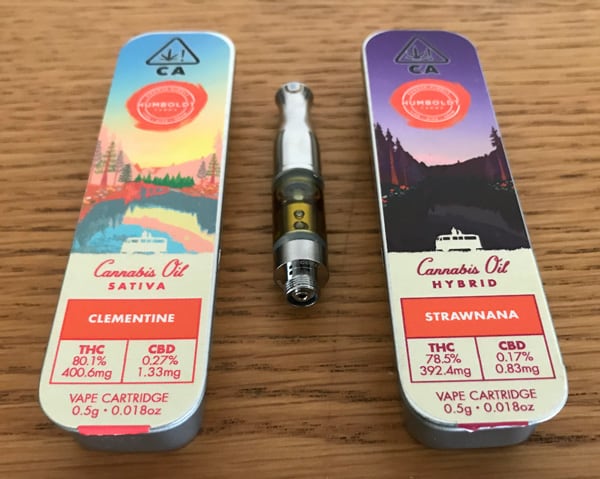 Final Thoughts
With great taste and effects, Humboldt Farms is racing to the front of the pack when it comes to cannabis oils that will impress even heavy hitting enthusiasts while also having a pleasing effect for the novice, with only 1-2 hits needed for a lovely experience.
I was able to use all of each cartridge without suffering from any clogging of the oil in the mouthpiece. Unfortunately, there is no sticker or engraving to tell you at a glance which cartridge is which (once out of its packaging) but when compared to other brands boasting similar strains testing higher at 85-90%, I felt a comparable high, which is a reflection of both the quality and care taken at Humboldt Farms.